Lola Rozsa




Debbie Middleton-Hope




Sue Chambers




Dr. Deborah Tamlyn




Dr. Luanne Metz




Janice McTighe



Jean Merriman




Beverley Sheridan




Edna Sutherland




Kristin Romeril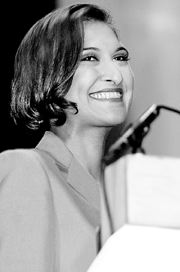 Jenelle Schneider, Calgary Herald / TV news anchor Nirmala Naidoo-Hill hosted the Women of Distinction Awards held Wednesday night at the Jack Singer Concert Hall.


Close to 1,300 people gathered Wednesday night to honour 10 Calgary women at the 21st annual Women of Distinction awards.
The YWCA event, held at the Jack Singer concert hall, recognized the women for their outstanding commitment and dedication to the Calgary community in 10 different categories.
Kathy Pinder, the event's co-chairwoman, said community support was crucial to making the event a success.
"This is a big fundraiser for the YWCA. This is an organization that's been in town for 91 years and it's a fabulous organization that works at building strength in the community through building strength in women, that is our vision and mission statement," Pinder said before the event.
"Mentorship is a big part of it. We have a lot of young women here today and I think we can all see the capacity of the human spirit, the human ability to strive and make great gains, that one person can make a difference.
"It's a very inspirational evening."
Through ticket sales and corporate sponsorship, Wednesday's awards generated between $140,000 and $149,000 for programs at the YWCA including family violence prevention, transitional housing, health and recreation.
"The corporate community in Calgary is very, very aware of what it needs to give back to the community, and to affiliate with the YWCA gives them an opportunity to help build strength in the community.
"We were the first shelter to ever work with the men, the abusers, and we set the pace.
"These corporations understand we're doing a lot of cutting-edge work with people who need help."
- - -
Arts & Culture
Lola Rozsa
Since arriving in Calgary in 1949 with her husband Ted, Lola Rozsa has tirelessly worked to promote the arts as an actress, volunteer and donor. In 1997, the Rozsa Centre at the University of Calgary was named in honour of Rozsa's and her husband's contribution to the new performance and rehearsal hall. Other organizations that have received generous funding from the couple are the Glenbow Museum, the Banff Centre and the U of C Faculty of Fine Arts.
Business & Labour
Debbie Middleton-Hope
In April, Debbie Middleton-Hope became an inspector in the Calgary Police Service -- only the second woman to achieve this rank in Calgary. While serving as Staff Sergeant in charge of the vice unit, Middleton-Hope recognized the need to develop innovative ways of addressing issues of child safety and prostitution.
Community & Humanitarian Services
Sue Chambers
In an average week, Sue Chambers spends 15 to 20 hours of her time volunteering. Her official job is aquatic and sport development manager at Lindsay Park. But she is also founder and president of Women in Motion, which generates funds for non-profit organizations. Chambers was the first female to be elected to the Calgary Booster Club and is also the first female president in the club's 48-year history.
Education
Dr. Deborah Tamlyn
As dean of the faculty of nursing at the University of Calgary since 1997, Deborah Tamlyn has been responsible for several innovative developments in nursing education. She has encouraged faculty members to implement initiatives that allow students to balance family responsibilities and work commitments without compromising goals for educational excellence.
Health, Wellness & Active Living
Dr. Luanne Metz
Under her, the Calgary Multiple Sclerosis Clinic at Foothills Hospital has developed into one of the most respected MS clinics in the world. She has developed the clinic, which is a program of the U of C's faculty of medicine, into the latest and best in Canada. Metz, a neurologist, is also active in clinical care and teaching within the university's faculty of medicine.
Lifetime Achievement
Janice McTighe
As executive director for Renfrew Educational Services, Janice McTighe is one of Alberta's most stalwart advocates of special needs children. Her advocacy work began 29 years ago when she organized kindergarten classes in Calgary's Renfrew community, and was sought out by Alberta Children's Hospital to provide services for special needs children. The service has evolved from a one-room kindergarten to one of the premier facilities of its kind in Western Canada.
Professions & Entrepreneurs
Jean Merriman
Jean Merriman racks up milestones in her career at about the same rate others do in a game of tennis. She started as assistant to the art director of CFCN Television in 1974, and today is executive vice-president of the White Iron Group of Companies. She is a member of groups including the Calgary Centre for the Performing Arts board and the Alberta Motion Pictures Industries Association.
Science, Technology & the Environment
Beverley Sheridan
Beverley Sheridan is an expert in the area of technology commercialization -- the business of taking discoveries from research labs and turning them into commercial products. Her first job at U of C was as manager of medical technologies with the university's technology transfer office. In January 2000, she established her own firm, Technology NOW.
Social Services
Edna Sutherland
For the last 15 years, Edna Sutherland has worked to improve the lives of immigrants and refugees in Calgary. Edna, executive director of the Calgary Immigrant Women's Association since 1998, focuses on empowerment of women and girls. Among 10 new programs she has created are the Margaret Chishom Resettlement Centre, Pebbles in the Sand literacy project, and My Shadow and Me job-shadowing program.
Young Women of Distinction
Kristin Romeril
As a champion for positive change, Kristin Romeril has established a teen mentoring group and been involved in many other initiatives. She is involved with the Women's Initiative in Tobacco Reduction and the Safe and Caring Schools Project. Kristin plans to pursue a career in law.