Technology Transfer Consulting
Technology NOW offers professional consulting services to small and emerging companies, researchers, academic institutions, technology transfer offices, funding and granting agencies, government organizations and regulators to:
| | |
| --- | --- |
| | commercialize a specific technology |
| | assess the potential of a technology |
| | devise a strategy to commercialize a technology or product |
| | start, organize, maintain or streamline a technology transfer office into a functional, vibrant productive operation |
| | develop policy, procedures and standards |
| | assist with the day-to-day challenges of operating and maintaining a new company |
| | train client personnel through seminars and workshops |
Technology Office Organization and Reorganization
Our staff has first-hand experience with establishing and running a university technology transfer office and we have assisted many other academic, private and government organizations determine which office model best suites their needs and financial circumstances. We can help you develop internal management procedures for your new technology disclosures as well as help you locate and train personnel.
Technology NOW has the expertise and experience to help organize or re-organize your office into one that is productive and functional.
Intellectual Property and Invention Management
Trying to commercialize technology without adequately assessing the most appropriate way to protect the underlying intellectual property can be a poor investment of time, money and energy. The filing and prosecution of patents, copyrights and trademarks needs to be an integral part of any commercialization strategy and needs to be aligned with the organization's overall business strategy.
Technology NOW will help you develop an appropriate and cost-effective I.P. management plan for your organization for office. Technology NOW can also provide access to, and will work with, highly qualified legal professionals to ensure that applications to the patent office are done correctly and in a timely manner.
Intellectual Capital and Invention Audits
Companies and organizations that have substantial portfolios of patents and other intellectual property do not fully understand what they have and its value. Collectively these assets are referred to as Intellectual Capital and most companies and organizations are missing opportunities to establish important new revenue sources or obtain other commercial advantages.
Technology NOW can help your organization uncover hidden assets buried in your patent portfolio or the creative back corners of your laboratories. We believe that Intellectual Capital has become a new corporate strategy issue and we have worked with a number of organizations to:
| | |
| --- | --- |
| | perform in-house technology audits |
| | evaluate the potential of the technologies identified from the audit |
| | assist with the licensing of the high potential technologies identified from the audit |
| | assist organizations to set-up an internal process to continue the monitoring of their intellectual property assets |
Agreement Negotiation
Commercialization is an interlocking series of negotiations - with technology creators, with institutions, with backers and partners, with lawyers, with regulators, with marketers, with licensees. Technology NOW's experience can provide the expertise to coordinate negotiations and obtain the desired results.
Technology and Market Assessments
Experience with more than 1,000 technology disclosures from a variety of disciplines gives Technology NOW the expertise and knowledge to objectively and accurately assess the commercial potential of research discoveries. Does the invention/discovery have enough substance to form the basis of a division or new company or should it be licensed as a stand-alone product? How much investment will be required to get the product to market? Who else is currently in this market? These are critical questions that we can help you answer.
Commercialization Strategies
Successful commercialization is not a formula or a linear sequence of events. It is a route that must be charted and is unique for each new discovery. Technology NOW can develop an optimal strategy that maximizes a technology's potential as well as controlling the human and financial resources required. We have assisted our clients to:
| | |
| --- | --- |
| | determine if the technology should be licensed or form the basis of a new company. |
| | determine the best method to protect the new discovery - a patent is not always the best choice. |
| | develop a licensing strategy for a new product - exclusive, non-exclusive? |
| | develop methods for marketing their licensing opportunities to potential licensees. |
| | develop methods for administering and monitoring agreements and relationships after the deal has closed. |
Training and Educational Services
When technology commercialization and new business development are the topics, turn to Technology NOW to deliver the information you and your employees need. We offer lectures, workshops, seminars, training sessions and individual coaching in all aspects of the industry and we can customize in-house training to suite your organization's needs.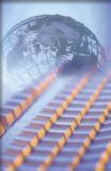 Additionally, Technology NOW, in affiliation with PeopleInteractive Learning Network Inc., is also pleased to be able to offer its clients a variety of courses and workshops focusing on the issues and challenges related to technology and product commercialization, business management, and new business start-up. These courses are offered live, on-line via the Internet.
What makes these particular courses different from other online Distance Education sources? Whereas the others offer interaction only through email and "text postings", our clients are provided with tools for audio and visual communications over the Internet in order to participate in a topic presentation. You share your experiences, expertise, and opinions with others.
These courses offer a relevant, cost effective alternative to traditional classroom training:
| | |
| --- | --- |
| | No Travel |
| | No Parking |
| | No Extended Time Away from the Office |
| | Information Delivered in "Digestible" Segments |
Back to Top of Section